Sylvie is truly FABULOUS ! I always book her for small group cruise ship excursions when my husband and I are in "neighbourhood," and all my friends to whom I've recommended her are always grateful to have toured with her. Sylvie is highly knowledgeable, genuinely charming, generously thoughtful, totally flexible, loads of fun--and absolutely first-rate.
My first booking with her was a glorious French Riviera tour during a June 2009 cruise call at Monte Carlo. My husband and I (as well as four friends who joined us) travel extensively and have high expectations. We all agreed Sylvie was outstanding. She was great about emailing me to discuss the customised itinerary we wanted: Nice, Eze, a non-touristy elegant perfume showroom in Grasse, and Monte Carlo. Without over-loading the itinerary, she fit many highlights into 8 stress-free/relaxing hours, including a delightful lunch at a bistro favoured by locals. She shared fascinating anecdotes and insider info and curated numerable breathtaking photo ops. Her vehicle is immaculate and roomy, and she's a superb driver.
More recently (last month—October 2017), we had another cruise call at Monte Carlo, and Sylvie and I arranged a new custom itinerary for four of us: MONTE CARLO (which she wisely had us tour first to avoid the later crowds attending a major boat show there!), CANNES, CAP D'ANTIBES, and a return visit to NICE. As in the past, Sylvie treated us to drives down secret scenic roads and walks along captivating pathways that most tours rarely include. And she selected the perfect luncheon spot in Antibes: « Arts Thes Miss », which we all adored! (See my separate review of this charming little organic restaurant and art gallery.)
Merci, toujours, ma chère Sylvie!
I have recently returned from a trip to the French Riviera with my parents and husband. We were staying in Monaco and booked Sylvie for a one day private tour. Right from the get go she was wonderful to work with - very detailed, quick to respond and helpful in putting together the best itinerary to maximise our time and day with her while accommodating all of our requests. The actual day of the tour was wonderful.
Sylvie was so easy to talk to and so knowledgeable about all of the places we went - we learned so much from her and her 30 years experience as a tour guide of this area. We ate excellent food, heard excellent stories, saw incredible sights and views and spent a perfectly balanced day exploring, as well as soaking in the surroundings. By the end of the day we felt like we had made a friend in Sylvie.
I would not hesitate to use her again to explore other parts of the Riviera should we ever return and would highly, highly recommend her to anyone looking for this type of private experience. Couldn't have asked for a better day!
We have traveled all over the world, always using private tour guides. After having read reviews of Sylvie, we signed up for three days of touring with her while cruising along the French Riviera in September of 2010. They were the best three touring experiences we ever had.
Sylvie was not only extremely knowledgeable of all the villages we visited but created an excitement that had us 'wanting more'. Being a travel agent in the US, I continue to highly recommend her to friends and clients alike. We can't wait to travel back to that part of the world to tour with Sylvie again...
Traveling with Sylvie de Cristo as our guide was a pleasant, informative, and fun experience. Though we had a specific itinerary in mind, Sylvie helped us make the most of it and often provided additional insights into the art, history, and culture of the region while showing us a number of things off the beaten path that only someone who lives and loves their corner of the world can do. She expedited our dining reservations, and always had a "Plan B" in mind in case there was an unanticipated closure or change of schedule for some of the places we chose to visit.
Although one would never suspect that Sylvie was in any need of improvement, it was evident that she continues to seek to surpass herself, whether it's a fine tuning of her already excellent English in order to communicate more vividly her knowledge in the most natural vernacular for her clients, or her constant quest to find something new in places thrice familiar to her. Her easy-going manner made our travels with her un-pressured and very enjoyable. We were very pleased and can recommend her if you want to experience the Riviera without wasting time, while discovering things on the "road less traveled" as well.
Sylvie di Cristo is the best tour guide we've ever had. She was professional in every way yet very warm and friendly. Our two days of touring with her in Southern France was one of the highlights of our cruise. We highly recommend Sylvie to anyone who wants to tour the French Riviera with a fantastic guide in a clean and comfortable van.
Do not hesitate to contact her anytime, as she will answer quickly and warmly to any request even at the last minute. She might be available even if you think that you need to book her months in advance because she is so great, so always give it a try, you really will have a memorable day with her.
Dear Sylvie, we remember your day with us, the gang from Celebrity on October 24th, as a very happy one. You were by far the best guide we had on our shore excursions that cruise—you set very high expectations which the others couldn't meet and some called themselves guides but frankly were just drivers.
Anthony Gillam – Bal Harbour – Florida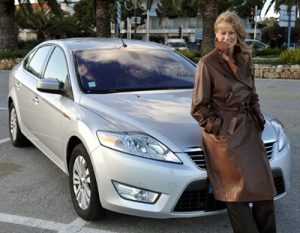 Sylvie is the best guide we have ever experienced. The only way to see the Côte d'Azur is with her. We can hardly wait to return to tour the places we did not have time to see. Merci beaucoup Sylvie !
Jim & Joanne Smith, St Paul, Minnesota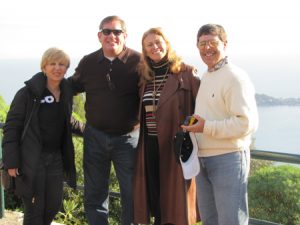 Dear Sylvie, I wanted to take this opportunity to thank you so much for the best tours in the south of France. You are an excellent guide and I appreciated the time you spent with me.
Merci beaucoup ! With warm personal regards
June Walker - New York City, USA
Sylvie is an absolutely fantastic guide! She is very professional, yet one feels immediately that she is also a friend. She is charming, warm and fun to be with, yet she is also knowledgeable and articulate (in several languages).
We had just 4 hours from the time our flight arrived in Nice, until we boarded the Silver Cloud in Monte Carlo. Sylvie met us at the airport, then took us on a walking tour of the oldest part of Nice.
She drove us to Monte Carlo, stopping in Cap Ferrat and Villefranche along the way. The tour was personal, and tailored to our interests.
We highly recommend her !
Carly and Chip Detwiller Sudbury - MA
As a hostess from the airport in Nice to our business hotel in Cannes, it was immediately clear that Sylvie Di Cristo is a true professional.
Later in the week we engaged Sylvie to help us learn more about the French Rivera with a personally escorted car tour. This was an amazingly informative and enjoyable adventure through the mountains and shores, the towns and farms, the gardens and museums.
Sylvie knew all the history of living, culture, and art; with her marvelous command of English she was able to substantially enrich our experiences in her home-town region.
I will seek Sylvie's guidance anytime I am in the south of France, and I recommend her tour services to all my friends and associates. Thank you, Sylvie, for the pleasure of your company from time to time.
Gordon Runner, La Jolla, California
Dear Sylvie,
I can honestly say that our groups have never enjoyed such a fine guide as you, anywhere. Our day together started on a fragile basis due to the incorrect instructions you received from the ground agent regarding our starting time & our itinerary.
But in five minutes, you turned the sentiment of our group from negative to positive. In addition to your wonderful knowledge and delightful personality, you were flexible and accommodating each time we changed your instructions.
We only wish you could be our guide in Paris, Rome, Barcelona, Berlin Thank you to you, this was the best day of our entire trip.
Sylvie, you can be sure that we will request your services any time our groups or our individual clients come to the Côte d'Azur.
Cordially,
Paul Niskanen, Cruise Masters, API Member, Beaverton, Oregon.
We recommend your service without limitation: you made our trip to the French Riviera a perfect and unforgettable experience with your personalized charm, knowledge and attention to every detail.
Margaret & Jack Turner, Clarksville, Tennessee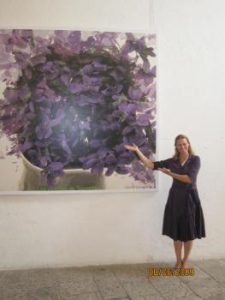 I would like to tell the world that Ms Sylvie Di Cristo is rated by Harvard Sports Management Group, Inc., New York, as the most experienced, most professional guide that we use throughout Europe.
Each year we travel to Menton to participate in an Easter Football Tournament and we have been specifically asking for Sylvie. She has never turned us down. She is knowledgeable, very polite, understands about America and the cultural differences.
I think the most interesting aspect of her contribution to our tour is that she is very flexible with our daily itinerary. I just wish we could hire her on other tours throughout Europe: we will try
Joseph W. Totman, President, Harvard Sports Management Group, Inc. New York City, New York.
Dear Sylvie, thank you for making our trip to Monaco this September 2001 such a pleasurable experience. Your knowledge of Monaco and wonderful attitude helped us enjoy this beautiful area.
We will come again ! Au revoir
Dominic & Deborah Nadeau, Oak Brook, Illinois.
At the suggestion of our travel agent, we engaged Sylvie Di Cristo as our tour guide. It was our first visit to the Nice area and we wanted to see as much as possible before embarking on a cruise the next day. We were so fortunate to have Sylvie's services: it was a wonderful day ! While we had a general idea of what we wanted to see & do, we asked Sylvie to use her judgment in planning our day's excursion. After a brief stop at several nice highlights, including the Russian cathedral, we drove to St Paul de Vence, one of the most charming villages ever visited. The shops & boutiques were wonderful. We visited the gravesite of the great artist Marc Chagall. We really loved St Paul.
Then to the village of Eze, one of the breath-takingly beautiful hill towns overlooking the Mediterranean. After walking & climbing to visit the shops & purchase a few souvenirs, we had lunch on the terrace of the Chèvre d'Or (The Golden Goat). The food is superb, as fine as we have had anywhere. The view of the sea & the harbour is spectacular. It is a very special place.
From Eze to Monaco where Sylvie escorted us around, the palace, museums & beautiful government buildings. And then to Monte-Carlo and, of course, the world-famous Casino, a magnificent edifice in which we spent considerable time. A very delightful afternoon. We cannot say enough good things about Sylvie Di Cristo. She is a personable young woman who speaks beautiful English. Her knowledge of local history is most impressive. She made our tour interesting in every respect. We felt we were spending the day with a new personal friend - one we would enjoy seeing again. We would recommend Sylvie to most highly to any American visiting the Nice area.
Florrie & Hank Weber, West Hartford, Connecticut.
Hi, I am Chuck Weirauch and I live in Daytona, Ohio a few months every year and the rest of the time I am travelling for business.
The first time I met Sylvie, I was travelling to the Nice area with a group of business men & she was our tour guide for the day. She was a breath of fresh air, not only was she a beautiful and charming French young woman who spoke four languages, she had a sound grasp of the history and culture of Nice & the surrounding areas and she was up to date on current events & politics. We were all pleased and Sylvie continued her professional level of service by giving a couple of the folks personal tours of the area the next few days. Upon return to Nice & Monaco, I called Sylvie to arrange a couple of days of chauffeuring for my friends & me. We walked through the customs gate at the Nice airport and found the smiling face of Sylvie waiting for us. She recognized me after five years as if it had been a day ago. We took the scenic trip to Monaco from nice and arrived before the rest of our party that had taken the express route. We were in Monaco for a gala affair that required shopping, tux fittings & evening gown purchases.
Sylvie stuck with us all the way. The following day, we toured Monaco, lunch was at the top of the museum in the area of the Palace with breath taking views of Monte-Carlo and we were delivered back to the Nice airport via a scenic route in plenty of time for the flight. If you want personal and profession assistance, great company & knowledgeable help during your next visit to Nice, call my friend Sylvie, her & her husband will be sure that you have the customized attention you need to make your visit memorable.
Chuck Weirauch, Dayton, Ohio.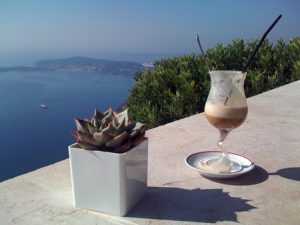 What can we say, our time spent with Sylvie was like spending time with a dear friend. From the time she picked us up at the hotel it seemed like we were with someone we had known for a very long time.
Our day was spent visiting many small towns and hearing about their history and walking down their narrow streets. The excitement that Sylvie expressed made us feel like this was the first time she was experiencing these towns, even though we know she must have done this tour many times!
We recommend Sylvie to anyone who wants to have a special memory about their vacation to the south of France.
Ralph and Tami Wilson - Evansville, Indiana
Sylvie, I would like to thank you again for 3 exciting, informative days in your beautiful country. I could never have seen such wonderful things and places without your knowledge and help.
Merci !
Bonnie Artigas, USA
Considering we only had "hours" ("seconds") to spend to catch a brief glimpse of Nice and Cannes, you made our short visit a tremendous success and very enjoyable. We all wish to thank you all such beautiful memories, enough to last a life time!
Yes, meeting you at dockside in pouring rain, our "Sylvie" took us under her "angel" wings and whisked us away setting out to try to keep our original touring plans intact. As the days past, I even heard them bragging about our "Sylvie" to other ship passengers. We thank you for your dedication, lovely spirit and knowledge.
You made a gloomy day bright! We all will not forget our "Sylvie" And should you every visit San Francisco area, you must call us, yes we could "guide" you! Our home is open for your visit.
Al and Sandy
Hi Sylvie, Just wanted to thank you so much for the lovely day we spent with you. Anton and I really enjoyed the places we went, the information you provided and most of all your fun personality!
We are already talking about another cruise for next year. We would love to see more of France. Our entire cruise was fantastic and we met many nice people, but the day we spent with you was very special. We will be in touch if we come back to the south of France.
Hope to have your tour of Paris at some point also. Take care and many good wishes to you and your family
Marianne Karuza
Sylvie, sorry for not writing sooner.
I want to thank you for a tremendous day in Monaco-Monte Carlo. The rain that day did not seem to hamper us at all. I think this was because of your tremendous knowledge and personality. Please do not hesitate to use me as a reference whenever you feel it appropriate.
Thanks again.
Ralph Dell'Orfano
Dear Sylvie! I just wanted to let you know what a true delight it was to meet you and share such a marvellous day with you!!
EVERYONE had a spectacular time discovering the French Riviera -- grâce a vous, ma très chère Sylvie. And David so appreciated your thoughtful gift.
With deepest affection (and looking forward to seeing you again before too long)
Mary-Lou Galician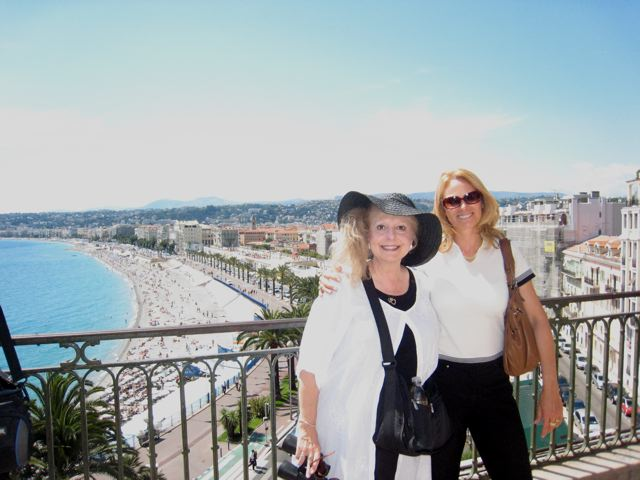 Sylvie, Again, thank-you for such a wonderful day. The sights around Eze and the personal time in Nice was perfect.
I had the photos developed and they are also terrific, however I can't cut and paste them so you will have to trust me that we have memories of Eze, Nice, Antibes and of course, our lovely guide that will last forever.
Thank you so much,
Pat and Russ
Sylvie I just wanted to tell you again what a fabulous tour we had. I am not exaggerating when I say it was the best ever.
We enjoyed very much meeting you and greatly appreciate your warm hospitality. Attached is an email I sent to my travel agent. She is a Crystal platinum agent who has a lot of high end clients who cruise with Crystal.
Hope we can meet you again -- perhaps in Paris.
Jim and Nan.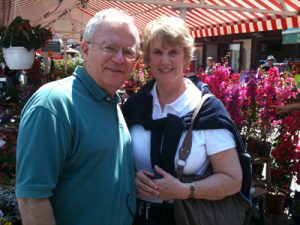 Hi Sylvie !
I just wanted to thank you again for giving us a wonderful tour! We thoroughly enjoyed it, specially, St. Paul, to my parents' surprise. Even though it was the 2nd or 3rd visit for some of us, it was so wonderful that you were able to show us new places and new experiences.
My parents thought it was same old Monaco again when I planned the trip, so they loved that they were able to see new places, in a very relaxed way, with a charming guide. I'll definitely recommend you highly on my posts and recommend you to my friends who go there.
Thank you! Warm regards,
Jean